A Short History of the BMW E30
Hi ho, I've been thinking about this car, that it might be a good one to own. In the perfect world, I would find one from the little ol' lady in…Ukiah, that bought one from the factory in Germany, picked it up and drove it for about 30k and parked it in her garage for the last 15 yrs. It could happen…so could having the winning numbers for Power Ball pop into my head…………it…could…happen! So for a very short history of the E30, we have to start with the E21. These "E" designations refer to the chassis size or the frame of the car. As Wikipedia tells us, "the BMW E21 is the body designation for the first BMW 3 series compact executive car, produced by the German automaker BMW from 1975 to 1983. This series was the immediate successor to the BMW 2002 and was superseded by the BMW E30. At the E21's release, three models were available: with 316 (1.6-litre), 318 (1.8-litre) and 320 (2.0-litre) versions of the BMW M10 four-cylinder engine. To draw clear visual distinction within the new model series, the 320 models came with dual headlights, while the 316 and 318 had single round headlights".
The E21 went until 1982, when it was replaced by the BMW E30 series. The E30 models included the 316 and the 318. The early cars were 4 cylinder fitted with carburetors, later on with fuel-injection, which added the "i" to the model designation. In 1983, a 6 cylinder motor became available in the 320i, the 323i and finally in the  325i.
This is only the very tiny tip of the iceberg in the history of this great BMW model. Of course we haven't even mentioned the E30 M3, which is a special car for another blog.
So this little bit of writing is meant to get us here to look at some cool pictures.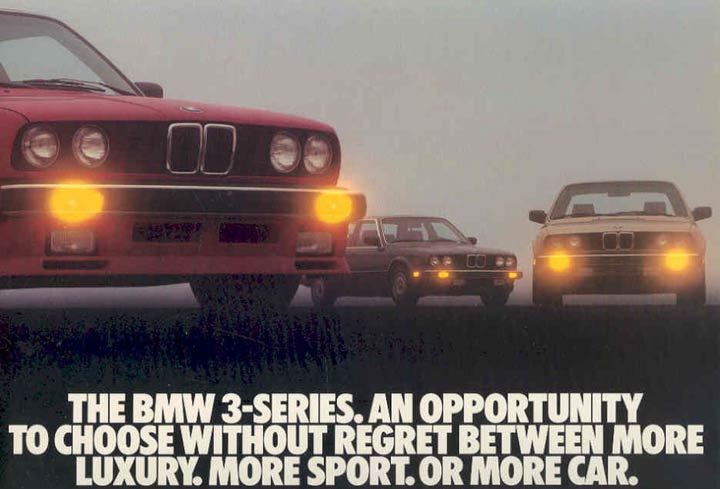 Yeah… a convertible, summer's coming.